The 2021 Subaru Love Promise Customer and Community Commitment Award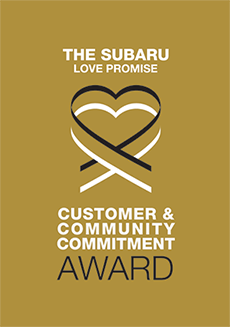 We've been nationally recognized for our dedication to our customers, our community, and the Subaru Love Promise.
We're honored to receive the 2021 Subaru Love Promise Customer and Community Commitment Award. This award nationally recognizes elite Subaru retailers who provide an exceptional customer experience at every interaction with Subaru. These retailers have also demonstrated an outstanding commitment to supporting passions and causes in their local communities in important areas such as the environment, community, health, education, and pets.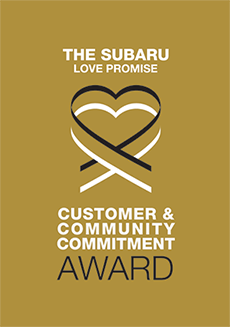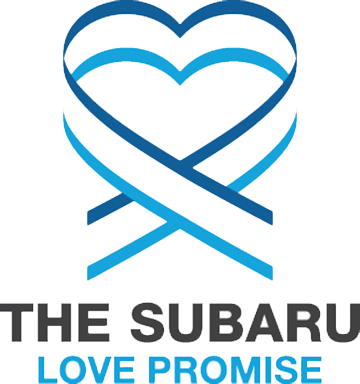 What is the Subaru Love Promise?
Subaru and our retailers believe in making the world a better place and the Subaru Love Promise is our vision of respecting all people. This is our commitment to show love and respect to our customers and to work to make a positive impact in the world.
How is Parker Subaru dedicated locally to the Love Promise?
Our Love Promise can be seen in various partnerships with local charities and non-profits. We're grateful for the opportunity, not only to be a part of our community, but to serve it as well. Parker Auto Family is a company committed to continuously improving its service to our customers, our employees and our community!
Pet Adoption Day/5 shelters, Canines vs Cancer
P.A.S.S./Perfect attendance spells success., Car Raffle/High schools, Learning with Lucky/Reading
Pack the Outback/Make-a-Wish Foundation, Coeur D Alene Food Bank
Coeur D Fondo/Local Bike Event, Casting for Recovery/Cancer Benefit
Love Promise Stories from Parker Subaru
Subaru and Parker Subaru believe in making a positive impact on the communities in which we live and work. We uphold that belief through our Love Promise Community Commitment. Every month, we select inspiring stories from customers and partners from around our area who strive to support our collective commitment and feature them here
Subaru Share the Love - Lexi E
It's a beautiful day to hand out some big checks! Parker Subaru presented both the Kootenai Humane Society and Children's Village with their individual donations from the Subaru Share the Love event this year. For every new Subaru vehicle purchased from last November through early January, Subaru agreed to donate $300 to one of these two local charities. Please follow both Kootenai Humane Society and Children's Village, Inc. to stay up to date on all of the amazing things they do. We absolutely love this community and the people and organizations that make it up!
---
Customer Reviews - Going the Extra Mile - Lexi E
"I just brought home my 2021 Outback Touring XT. This is my third Subaru and by far my best car buying experience ever. My salesman Tommy Pfau was fantastic! He made me feel like a friend and made everything smooth and seamless. I drove from Cheney, WA and it was worth every mile. Thank you Tommy and Parker Subaru for the wonderful customer service. If you're looking for a great experience buying a car I highly recommend Tommy and Parker Subaru!" "I'll start this off with the info that I have been looking for a car for about 6 months. I'm picky and on a budget, probably a salesman's worst nightmare! But no matter how many times I came down to Parker to check out a car, get numbers, not end up getting it and just not quite finding "the one", Dustin worked hard to keep looking for a vehicle to fit what I needed for my family. He never gave up and threw in the towel and I'm forever thankful. We finally found the perfect car and he worked so hard to make sure I could get into it. He was so honest and professional the entire time and really went above and beyond even after the purchase was done. Everything was all set up in my new car and it was so quick and easy. Then made sure I could find all the gadgets and helped set up the Bluetooth and everything. Just such a wonderful experience thanks to Dustin. Thank you again for helping us find a car for our family!" "We absolutely LOVE Parker Subaru! Danny Garrigan sold us a car several years ago and it was such a great experience then, that we requested him again tonight when we went in. We were in the market for a car for my son. Let me just say I HATE buying cars. And when it comes to my son I'm unwilling to compromise on trust or reliability. I knew that with Danny, both would be in good hands. We went in to test drive a car and with Danny's help we were able to make the purchase. Danny was professional and very easy to work with. Thank you Parker Subaru and thank you Danny! The experience was painless and easy." "This was my first experience buying a pre-owned vehicle from a dealership and I cannot say enough great things!! Sales associate Drew H made our experience fun, easy, and enjoyable the whole time. Once we were passed along to finance, Drew H (different Drew H) worked out a deal while we went home and kept me updated the entire time. He helped get me my desired rate and payment, even though it took some extra work. At signing, we were helped out by Greg who had all of the paperwork ready and explained everything super clearly. This was a quick and easy experience. At all times we felt welcomed, comfortable and were met with kindness and respect. We weren't pushed into buying anything we weren't interested in and all of the employees who helped us were open and honest the entire time. I recommend Parker Subaru 100% and am so so pleased with everything about my experience." "Wish I would've come to this dealership when I traded in my Nissan when I moved up from CA 3 years ago. Joey and the team were all great. 97% of my communications were with Joey and were done via phone and text. Joey was always available to answer questions and educate me where needed. Even on his day off. When I finally got into the dealership financing and paperwork was already pre-filled and ready to go. Everyone smiled and greeted me. Super super professional and warm experience and will recommend the dealership to everyone I come across who is looking to buy / trade. I even got to see some pics of Joey's dog. Which was a huge plus as I have 4 rescues of my own. I sincerely appreciate the time and effort this team put in. Thanks." "Absolutely excellent service! Answered all questions, whether they were related to the purchase or not, and did so professionally and with a smile. The plans they offer in addition to the lease of the car are extremely affordable for the services provided, and are very in-depth in what they provide. Large selection, in multiple options per vehicle, and great quality vehicles in general, including their used vehicles. My family has purchased multiple Subarus from here over the span of a decade and a half, and every one they have bought have been great quality, with excellent service. Now that we purchased one ourselves, I can say with certainty that this has been one of the best experiences I have ever gone through purchasing a vehicle. HIGHLY recommend!"
---
Christmas Dinner Drive - Lexi E
The need for food never ends, especially during the holidays. This year, Parker Subaru bought supplies from Super 1 Foods, and the staff assembled and filled 120 boxes with everything needed for a Christmas dinner. That evening, families drove through the service drive and were welcomed with smiles, music, and a cheerful "Merry Christmas" as staff loaded a boxed dinner into their cars. For the families who were not able to get to the dealership, a handful of Subaru staff made home deliveries to make sure the meals got to where they were needed. The remaining boxes were taken to UGM and Real Life Ministries. We look forward to hopefully helping and feeding even more families next year!
---
Subaru Loves Pets "Yappy Hour!" - Vicky N
The good folks at Parker Subaru had to cancel their annual Pet Adoption Day for 2020 - but came up with another great idea! As part of Subaru Loves Pets they donated $100 for every dog adopted in the month of October to celebrate Adopt a Shelter Dog Month! And they held a "Yappy Hour" at their dealership to celebrate National Make a Dog's Day at the same time! Kootenai Humane Society was proud to be a part of this hour long Live Facebook event! Chris Leonard, Parker Subaru's General Manager joined in on the fun and met Toby, an eight year old Shepherd Rottweiler mix who was dealing with some major skin issues. Toby spent several weeks at the shelter recuperating but he didn't seem to mind all the attention he was receiving at the dealership! Just a few days after his Yappy Hour appearance, he was adopted! He found the perfect person to spend the rest of life. For many years Parker Subaru has helped so many animals find their forever homes. All of us at Kootenai Humane Society, two-legged, four-legged, and sometimes three-legged are so grateful for their continued support of our life-saving mission. Four paws up to all of them! And a big Woof!
---
Parker Subaru Reaches Their Community - Mark G
All our experiences with Parker Subaru in Coeur d'Alene, Idaho have been superlative. From Danny Garrigan our salesman to Bill Smasne Sales Manager, and Devin, and Joshua who helped us with financing and service, respectively, I have been exceedingly pleased with Parker Subaru. What I find extraordinary about the dealership is that they have a food bank for the community with what seems to be a "Donate What You Can, Take What You Need" philosophy. They also adopt families in the community at the holidays to whom they provide food, gifts, and love. From what I hear, the members of the Parker Subaru team actively participate in these activities as well. Honestly, I was not sure I would buy my new car from them. They made me a very competitive offer on the purchase, but what sold me on the car and the dealership was their support of the community in which they are located. I'm impressed.
---
Second High School Car Raffle Fundraiser 2020 - Giselle Z
Each year, we challenge the Post Falls, Lakeland, and Timberlake High School students to sell raffle tickets in order to raise money for their student programs. The ultimate prize for the raffle you ask? A brand new 2019 Subaru Crosstrek from Parker Subaru! This year, the students were able to raise $72,082, which is just amazing to see from our community. We owe the success to every person that chooses to buy a raffle ticket in support. The best part of it all is that 100% of these funds raised go directly to the student programs at each school! We have found this to be an incredibly successful fundraiser for the schools, and the reaction of the raffle winners is always just the cherry on top! Karen Wood was lucky enough to be drawn as the winner of the new Subaru Crosstrek this year. She purchased her ticket from her granddaughter who is a cheerleader at Post Falls High School! From the winning call to the pick up at Parker Subaru, the reactions on the video are definitely worth a watch!
---
P.A.S.S. Bike Giveaway 2019 - Giselle Z
P.A.S.S. stands for Perfect Attendance Spells Success. Since 2013, we have challenged the Lakeland school district sixth graders to achieve perfect attendance in order to win a free bike and helmet at the end of the school year. Well, last year there were 40 qualifying students who ended up making it through the school year without missing a day of school! We honored them at their end of the year assemblies and invited them to our P.A.S.S. Bike Giveaway and Barbecue. That day, our Service Center that's normally filled with vehicles was filled with food, drinks, and bikes for all the awesome students and their families! This is just one of the ways we try to live out the Subaru Loves Learning Subaru Love Promise. Staying engaged at school every day is an important part of the learning process. We hope that this school year, even more students achieve perfect attendance to win their free bike and helmet!
---
First High School Car Raffle Fundraiser 2020 - Giselle Z
The students of Sandpoint High School sold raffle tickets for the chance to win a brand new 2019 Subaru Impreza from Parker Subaru this year. They ended up raising over $58,000 through the raffle, and 100% of these funds go directly back into all of the Sandpoint High School student programs. We can't thank our community enough for their incredible support and we would like to congratulate Michelle Brown for being the raffle winner! She was even at the game when we announced that she won, which made it even more special. Her family had an older Subaru that had recently been in an accident, so it couldn't have been more perfect.
---
Subaru Club Food Drive and Meet Up - Giselle Z
Our second food drive was a huge success because of the generosity of our local Subaru clubs - Sandpoint Subies, River City Subies, and Lilac City Subies. We opened up our service drive to host a bbq, raffle, and even a pie eating contest! The food items that were brought for the food drive kept piling up - and by the end of the day, we were floored by the immense amount that was collected. All of the donated food will be used to fill our Parker Subaru food pantry that we installed in October of 2018. Pet items were also donated, and we took all of those donations to one of our local animal shelters. It was awesome to see the pride each Subaru owner had in their Subie - whether it was old, new, custom, or stock. After checking out everybody's ride, we raffled off Subaru items like yoga mats, shirts, canteens, headphones, oil changes, and even a few bikes! It was fun to see how excited these Subaru enthusiasts were about their new Subaru swag. We look forward to doing another food drive with these awesome Subie clubs and ambassadors again in the future!
---
CDA Marathon - Giselle Z
We were proud to support the Coeur d'Alene Marathon again this year! This local race supports the North Idaho Centennial Trail Foundation, whose mission is "to preserve and develop the North Idaho Centennial Trail System and promote non-motorized trail connectivity throughout North Idaho." We appreciate the work that they do to keep our local trails clean and maintained for everybody to enjoy.
---
Pet Adoption Day - GZ - Giselle Z
There were smiles everywhere during our 8th annual Pet Adoption Day. Instead of Subaru vehicles, our service bay was filled with furry friends who were ready to be taken to loving new homes. Six local shelters participated in the event this year - Spokane Humane Society, Kootenai Humane Society, SpokAnimal, Shoshone Pet Rescue, Scraps, and Path of Hope Rescue. This event is one we all look forward to not only because it enables us to live out the "Subaru Loves Pets" Love Promise, but also because we get to cuddle up with the cutest animals for the day. One of our staff members even decided one day of cuddles wasn't enough and took one of the pups home.
---
Children's Village Spring Benefit - GZ - Giselle Z
A very heartfelt thank you for your generous $1,000 donation to Children's Village. With your help, we are able to provide a safe and loving home for our children. In March we held our annual Spring Benefit and once again were blown away by the generosity and support of this amazing community. We were blessed to have a past Children's Village resident, who was able to share her story of how Children's Village impacted her future and allowed her to create many positive childhood memories and gain the lifeskills needed during her time with us. There was not a dry eye in the place. This story is a testiment to each one of you that your involvment and support is truly making a difference, bringing healing and providing a brighter future to village children over and over again. The need is real, your support is greatly appreciated and together we are making a difference in the lives of this community's most vulnerable children. Thank you for supporting our mission of loving children and restoring hope. Many thanks, Mark A. Wilson, CEO
---
Suicide Prevention Action Network of North Idaho - Katherine H
On behalf of Panhandle Health District, the Suicide Prevention Action Network of North Idaho (SPAN), the Survivor Support Group and everyone in our community who has been affected by suicide, we want to express our gratitude for Parker Subaru's generosity. Many in our community have been impacted by suicide and we are thankful that through donations like Subaru's we are able to support those that have lost someone to suicide through the Survivor Support Group. "When we met with the group they knew that we were feeling, lost, scared, hurt, broken, and not sure how to go on or even if we could go on. Listening to the others that were walking this path and seeing and hearing how they were coping one day, one hour, one minute or one second at a time gave us the courage to put one foot in front of the other. We continue to go because at each meeting we could pour our hearts out and be reassured that we are okay." – Survivor Support Group member who lost her son to suicide. Not only does SPAN support those who have lost a loved one to suicide, but we are also actively trying to prevent suicides from happening. SPAN had over 800 registrants for the annual Break the Silence walk in 2018, which brings the community together to raise awareness on preventing suicide. SPAN also offers free QPR training to groups. QPR stands for Question, Persuade and Refer. An individual is taken through training to be able to recognize signs when someone may be depressed and contemplating harming themselves. QPR will provide them the tools to feel comfortable to question that individual, persuade them to seek help and then refer them to a professional. In 2018, nearly 900 community members received QPR training.
---
Love Promise Food Pantry - Wilson F
It is Great to see that the Parker Subaru team has started a Love Promise Food Pantry! We have had our Food Pantry for almost two years. The Brandon Tomes Subaru team members and our community have embraced it and help stock it by donating food on a regular basis. Our nationwide challenge to all Subaru Retailers to start their own Food Pantry has been excepted by Parker Subaru and several other retailers. Congratulations to Parker Subaru for giving back to your community on a daily basis 365 days a year. You are making a difference in peoples lives every day! (attached is a pic of our Love Promise Food Pantry) W.E. Fowler G.M. Brandon Tomes Subaru McKinney, Texas
---
Parker Subaru Food Pantry - K H
Supporting the Coeur d Alene community and those in need is an ongoing mission of Jim Parker and the team at Parker Subaru. That is why we are excited to announce our newest community contribution. In search of always looking for new ways to give back to our community this by far could be one of our favorites! On Wednesday, October 24th we unveiled the Parker Subaru Food Pantry. Although we would love to take credit, this was conceived by Brandon Tomes in McKinney, Texas. It was such a huge success, Brandon sent us the plans to make our own pantry. This food pantry's commitment is to show love and respect to all people and make a positive impact. The pantry is unlocked at all times and anyone in need of help is welcome to grab food as they need it. Our commitment is to help individuals and their family by putting food on the table and keeping the food pantry stocked at all times with non-perishable food items. We are so pleased to see our community involvement. Recently we found folded blankets there for anyone to take. We check on the pantry daily and find donations of food someone has dropped off. it truly takes a village!
---
ANGELS OVER SANDPOINT - K H
It's a New Day and we're ready for back to school this afternoon! Thanks to everyone who helped us get this together! Great fun for a fabulous cause! We will provide back-to-school backpacks and supplies to over 850 kids this year. A special thanks to Ryan Wells @ staples for help with the B-t-S supplies and the folks at Parker Subaru for donating all the bags this year! It takes a village to make this kind of difference! We are blessed to have so many hands and hearts working on this effort. What an awesome community we have here in North Idaho! Thank you to all the volunteers and other sponsors that made this happen for our local kids. Angels over Sandpoint
---
COEUR D ALENE CROSSING - K H
I just want to reach out and say THANK YOU! Parker Subaru stepped up again this year and provided support for the Coeur d'Alene Crossing. Your support does not go unnoticed. From the donated merchandise, the event signage at Parker Subaru, the promotional car and your happy volunteers, we at the Crossing want to say THANK YOU for another successful event. The Coeur d'Alene Crossing is a 2.4 mile open water swim to benefit 3 local non-profits, Union Gospel Mission, North Idaho College Booster Club & the Coeur d'Alene area Swim Team.
---
Sweethearts Ball - K H
Thank you Parker Subaru for your generous donation! Please know that you are making a difference in the lives of local children and families. With your help we raised $75,000. We are tremendously grateful for your company's support in helping us reach our fundraising goal. Year after year, the Sweethearts Ball plays a vital role in providing a week of medically supervised camp for over 100 local children affected by cancer. The proceeds from the year's event will help make that dream a reality. We could not do it without the generosity of donors like you. Once again, The Sweetheart's Ball and Camp Journey at Ross Point thank you for your kindness and for helping us to make a positive impact on the lives of local children and families. Sincerely, Mary, Procurement Chair Sweethearts Ball 2018
---
7TH ANNUAL PET ADOPTION - K H
Another great turnout for the Parker Subaru Pet Adoption Day. Sunday April 29th was our 7th Annual Pet Adoption Day. Every year we open our Service drive up to area animal shelters to help promote and adopt out some four legged friends in need of a new home. This year we were thrilled to host Kootenai Humane Society, Spokane Humane Society, Double J Dog Ranch and Shoshone Pet Rescue. These local animal shelters provide aid and temporary homes to the many abandoned pets in our area. It is all done with limited budgets and donations from our community members. Unfortunately, these shelters are often over-crowded while the animals are waiting to be adopted. during the event, we pay half of all adoption fees to help boost adoption rates and ease some of that over-crowding. A new addition to this years event was a booth from a local veterinary office. Lakewood Animal Hospital was there handing out goodies and providing excellent general health information for pet owners or future pet owners. The turnout was excellent again with and estimated 200 people coming to the dealership to find a new pet or maybe just to show support and enjoy some delicious BBQ chili dogs courtesy of Parker Subaru. We don't yet have the official count on the number of pets adopted but we know several animals found their forever homes that Sunday. Thank you to everyone who makes this event possible-Stuart Advertising, the wonderful animal shelters mentioned above, Lakewood Animal Hospital, all the Parker Subaru staff who volunteered to help, and most importantly the community members who showed up to support and adopt a new family member. It was an excellent event and we can't wait to it again next year!
---
CHECK PRESENTATION - K H
Mr. Jim Parker, Parker Subaru staff and the Share the Love Event Team, On behalf of the Board of Trustees, the staff, volunteers and especially the children, we wish to express our heartfelt thanks to you and your team for your incredible generosity and commitment to caring for our community's most vulnerable children. These kiddos have come from tragic places and desperately need a safe haven of love, nurturing and healing.. Your financial support has had more of an impact on the quality of these children's lives than you can ever imagine, not only today but for years to come. With your support, we have been able to increase the quality of care provided, enhance our therapeutic services and provide these kids with the lives they deserve. We see the impact everday as we watch the healing process unfold, witness transformations and truly know that they are headed for a brighter tomorrow. This community is a better place as a direct result of your caring.
---
I love Subaru - Lorna S
I have lived all my life in Southern California and never knew about how great a Subaru was until I moved to CDA (Coeur d Alene) Idaho 5 months ago. When winter came I couldn't get my car out of the driveway because of the ice and slush so I asked around and everyone recommended I buy a Subaru. They said CDA people love their Subaru's. So being a single woman with a limited budget, I bought a 2015 Legacy from a used car lot in February 2018. It is not only beautiful, classy, and comfortable, but I can go anywhere in the worst of weathers. I absolutely love my Subaru and even the people at Subaru of America. Let me explain; recently I stopped to get gas and the gas cap wouldn't open. The used car lot wouldn't return calls or do anything about it, so I called Subaru of America and talked with Anthony B to see if anything could be done. He was so kind and thoughtful. We talked for sometime but since it wasn't a recall there was nothing that could be done but Anthony said, "I will stay on this and maybe I can at least save you some money." The next day he called to tell me to take the car to Parker Subaru in CDA where he had already talked to them and the cost would be taken care of. The bill was $129.25 and written on it was, "Anthony of SOA is taking care of bill." Wow, Anthony went above and beyond what I could have ever expected. Please take note that you have an amazing man who cares about your customers and gives exceptional service. Please thank him for me. I will tell everyone I know about Subaru. It is a great car and great people to work with.Thank you
---
6th Annual Christmas Kindness - K H
As the year comes to a close, we reflect on all we have done to give back to our community...Have we done a lot???? Yes... Could we do more??? Absolutely! We just had our 6th Annual, Christmas Kindness, helping more and more families with Christmas each year, something we are extremely proud of and is one of the most rewarding things we do together as a company. To deliver presents and see the excitement on each child's face is truly priceless. Our employees here at Parker Subaru are like no other! Everyone here was in the holiday spirit with technicians even donating their time to fix a car of one of the families with 5 little girls. Mr. Parker said recently at our Christmas brunch, "we spend more time at work than with our own family and with tears in his eyes, he is truly grateful" well Mr. Parker, we, as your employees, are also truly grateful to work for such an amazing company, who gives 110% back. Merry Christmas and Happy New Year! From all the employees at Parker Subaru may 2018 bring you many blessings and happiness.
---
6th Annual Sandpoint car Give-A-Way - K H
Congratulations Bonita on winning the Sandpoint High School Subaru Crosstrek raffle! And a congratulations goes to all the students, they raised over $64,000 to support various student clubs. We're excited to see how you'll use those funds!
---
HEART SAFE - K H
Dear Parker Subaru, We received your donation of $20,000. and greatly appreciate your support. With your donation, the money will be used to purchase AED's and allow us to place them in our local schools. AED's have been proven to save lives and your donation has now made our community Heart Safe. Many Thanks, Ryan Asher, Captain/Paramedic , Blaine Porter, Firefighter/AEMT, Jarrod Pitts, Firefighter?EMT After the placement of AED's in schools Parker Subaru opened to the public a free CPR and AED hands on class. Thank you Ryan, Blaine and Jarrod for making this class fun and very informative for everyone.
---
EXCEPTIONAL EMPLOYEE - K H
Hi Josh, Thank you so much for the GREAT service yo have provided during the past few years. After traveling WA, OR and ID and visiting many of the subaru dealerships due to the unusual consumption of oil, I have even a greater appreciation for you and Parker Subaru. Not only do you represent your company with the highest standards of excellence, you are truthful and caring and it is so reasuring to know, if I have questions or problems that I will get an honest answer and you have my best interest at heart. THANKS very much. Cheryl
---
FALL CLASSIC GOLF TOURNAMENT - k H
Chris, Many thanks to you and Parker Subaru for your sponsorship for our ladies Fall Classic Golf tournament. 144 women participated in this event that was hugely successful because of sponsors like you! A portion of our money collected goes to benefit St. Vincent De Paul and I'm sure they thank you too. Gayle Foote
---
CAMP JOURNEY - K H
The Sweethearts' Ball Thank you! Dear Parker Subaru, We would like to thank you for all that you have done to make this year for our kids at Camp Journey a huge success! We are very thankful that you supported our event, The Sweethearts' Ball and it is with great pleasure to announce that with your contribution along with others we were able to donate $60,000 to Camp Journey for 2017! There were over 120 kids who attended Camp Journey this year and they were just as thankful for your contributions as we are! It is because of you that these amazing children have the opportunity to attend camp. It is people like you who keep our dream and vision alive. Again thank you for all that you have done to make Camp Journey and the Sweethearts' Ball possible.
---
CHILDREN'S VILLAGE FOOD DRIVE - K H
Dear Parker Subaru, Thank you so much for generously hosting the "Needs List Drive" for The Children's Village and providing yummy chili dogs! Events like this are so helpful in stocking up on exactly what we need. We are very lucky and so appreciative of all the love and support you continuously give us. Thank you so much! Loving Children-Restoring Hope..Childrens Village.
---
PASS Program - K H
Congratulations to all our 5th and 6th graders in our area for "perfect attendance" It was a very difficult year with all the sickness and flu bugs going around. Worse year ever! Even though this year not as many bikes were given away, we still had a great day and those children who came and picked up their bikes and helmets enjoyed the BBQ and rode around. We just loved seeing all the smiles and gratitude.
---
ALS BIKE RIDE (CINDY'S RIDE) - K H
Hello, Thank you so much for taking the time to present this bicycle ride to Mr. Parker. I am overwhelmed at this time at the generoisty of Mr. Parker and this company. We are fast approaching the 1st anniversary of my husband's passing from this dreaded disease. It can be hard for me to grasp that he has been gone for this length of time. I miss him terribly, but would not want him back in this world if he was still stuck in his body that did not work for him and shut down. No cure. No hope. The one thing that keeps me going is knowing he is no longer in pain, no longer shut up in a dying body and that he is at peace with our Lord. One day soon i will rejoin him. In the meantime, i continue to work hard for others who have this diease, and their caretakers, which usually are their spouses. The ALS Evergreen Chapter covers a large area: Washington, Idaho, Montana, Alaska and Oregon, where the need is most, we set up meeting for support to the PALS and CALS; try to keep our loan locker stocked with all the necessities the PALS need wheelchairs, beds, cough assists, hoyer lifts, etc..m, and help out with caregiving assistance and much more. The money raised at this ride and at the walks stay locally. Again, I humbly thank you for your support and welcome you to being a part of this great ride! Belinda Carson, Committee Rep Silver Valley Bike Ride for ALS (Cindy's Ride)
---
6TH ANNUAL PET ADOPTION DAY - K H
Another successful pet adoption day under our belt. On Sunday April 30th Parker Subaru held our 6th annual Pet Adoption Day. Each year it just keeps getting bigger and better than the last. A huge thank you to the Humane Society, Double J dog Ranch, Shoshone Pet Rescue, Washington Bassett Rescue and Power of the Paw for bringing such a great selection of fur babies. With the exception of 2 sweet bassett hounds, every animal brought to Parker Subaru for Pet Adoption Day was adopted, including 2 guinnea pigs. Parker Subaru would also like to thank our community for coming in record numbers to our annual event. A free BBQ was offered to all and Parker Subaru paid 1/2 of all adoption fees. "The value of life is not based on how long we live, but how much we contribute to others in our society."
---
Sweetheart's Ball - K H
Dealing with childhood cancer can sometimes make "just being a kid" seem out of reach and out of scope for the whole family. At Camp Journey, their goal is to change that perception and that reality. At their nurturing, medically supervised home-away-from-home, young cancer survivors can leave their worries behind for one magical week and immerse themselves in a fun-filled outdoor camp experience tailored especially to their needs. In the meantime, their families and caregivers can rest easy, knowing that trained pediatric oncology staff are on site 24/7. What started in 2013 as a project to give back to the community has now grown into the leading fundraiser for Camp Journey. The founding vision was to bring together the community to raise awareness and funding for the local children's oncology camp in a compassionate, real way. Parker Subaru feels truly blessed to have sponsored and being a part of this wonderful event for the 2nd year in a row. This year, the Sweetheart's Ball raised $60k and will be able to send more children to camp.
---
CHECK PRESENTATION - K H
We certainly felt loved yesterday when Parker Subaru stopped by to present us with a check for $44,668.00! These funds were raised through their amazing annual, "Share the Love" event. The total was 2x the amount from last year! #forthekids #bestcommunity
---
CAMP JOURNEY/THE SWEETHEARTS BALL - K H
The SweetHearts' Ball March 5 at 9:00am · Thank you Parker Subaru for being our Diamond Sponsors for the 2nd year in a row. It means so much to have this amazing family and organization on our side. If you don't know much about the Parker Family they do nothing but give back to our community in so many ways, they truly set the bar for community involvement and philanthropy. If you haven't had the chance to stop by their facility and meet their amazing staff of had workers we really recommend it. Thank you again for helping to make this event happen and making a difference in the lives of children who need it the most. Thank you Jim Parker, Diane Bowman Parker, Chris Leonard, Kathleen Hine.
---
EXCEL FOUNDATION-CDA - K H
A huge shout out to the Parker Auto Family for your support of the Excel Foundation and for being our first ever Diamond sponsor. Thank you!! The EXCEL Foundation funds grants to teachers for innovative classroom projects in Coeur d'Alene School District 271. These projects would not be funded with ongoing school maintenance dollars. Funding is meant to improve the learning experience of students and encourage teachers with creative approaches to education. Grants are not awarded based on particular area of emphasis or rigid criteria. Instead, the EXCEL Board seeks unique and inventive ideas which will increase a students motivation to learn while developing higher level thinking skills and depth of knowledge.
---
5th Annual Christmas Kindness - K H
It just keeps getting bigger and bigger. This year Parker Subaru helped 7 families that otherwise would not have had a Christmas. Our employees love this time of year and it wasn't long before teams were formed, families picked and the shopping and wrapping began. Even our DPSM Phil Saraceno got in on the action with a donation to help. Thank you Phil.
---
Parker's Million boosts NIC - K H
The Parkers have made a $1 million donation to the Building the Future Campaign, which will help to ensure the Career and Technical Education Facility has the necessary equipment and scholarship support for students who enroll in one of nine career and technical programs offered at the facility. The NIC (North Idaho College) facility will be named the Parker Career and Technical Education Facility in honor of their vision and generous investment that benefits the entire region. Jim pointed to the high job placement rate and good wages available for students pursuing careers in the skilled trades. He emphasized this facility will not only benefit his company's needs for qualified employees, it will enhance the overall economic stability and prosperity for the region now and for future generations. "We're proud to support this project and the future generations that deserve opportunities this facility will provide," Jim said. We sincerely thank the Parker family for their commitment, said NIC President Rick MacLennan. We invite the community to come tour this incredible facility and learn about the programs and careers our graduates will qualify for as they enter the regional workforce.
---
5th Annual Car Give-A-Way - K H
Congratulations to Rick and Denise they each won a new 2016 Subaru Crosstrek. Every year Parker Subaru gives back to the community by donating a new vehicle to the Post Falls High school. Students sell tickets to win a new car. 100% of the proceeds go back to the school. Well this year Parker Subaru decided to include Sandpoint High school and donated another 2016 Subaru Crosstrek. This is the 1st year of selling tickets for Sandpoint but they raised an incredible $51,000. But lets not forget Post Falls they sold $68,000. In our eyes this is a win-win situation. We are all winners.
---
SHARING THE LOVE - K H
Parker Subaru's amazing Share the Love event has come to an end, but that didn't stop Jim Parker with Chris Leonard and Kathy Hine from dropping by our office last week in a car overflowing with supplies from our monthly needs list. #communitycares #drivenbywhatsinside. Thank you, The Children's Village
---
Thank You - Kathy H
On behalf of the Board of Directors, our staff and myself, I would like to take this opportunity to say "Thank You" for your recent pledge to St. Vincent de Paul North Idaho in the amount of $1000.00. Thank you for continuing to support us in our mission. It is with your help and support that St. Vincent De Paul is able to continue with our mission of "empowering others to help themselves". Sincerely, Jeff Conroy, Executive Director
---
LONG BRIDGE SWIM - Kathy H
Dear Jim, Thank you for your support of the Long Bridge Swim in 2016! Your sponsorship will contribute greatly toward our efforts to provide swim lessons for young people and adults who would otherwise not be able to afford them. We especially appreciate you being a lead sponsor two years in a row! Since 2011, the Long Bridge Swim has funded swim lessons and water safety classes for over 3600 children, working with teachers in the Lake Pend Oreille School District and instructors at Sandpoint West Athletic Club. Thanks again for your support of the Long Bridge Swim and our swim lessons initiatives! Best regards, Jim Zuberbuhler
---
Visitor's Day - K H
As an employee of Parker Subaru (sponsors of the Sweetheart's Ball) I had the honor of attending visitor's day at Camp Journey. It was such an amazing and humbling experience to see children from just being diagnosed with cancer to terminally ill. I didn't know what to expect and I certainly didn't think it would impact me as it did. The Sweetheart's Ball raised 50k for Camp Journey and Parker Subaru is so blessed to have been a part of that. It's about helping but you also have to care and believe. I can honestly say the Parker Family makes you want to be a better person and serve your community. It's not just about selling cars to them, It's about giving back. Thank you for allowing me to be a part of this extraordinary team.
---
Sweethearts' Ball & Camp Journey - K H
Dear Parker Subaru, We cannot thank you enough for being a sponsor at the Sweethearts' Ball and for all of your support of our pediatric oncology camp, Camp Journey. With your unprecedented support for community auction donations, and your cash contributions, you have helped make it possible to send 120 children who have or have had cancer, along with 75 volunteers from across the Pacific Northwest to attend Camp Journey free of charge. Your community support and outreach is unparalleled and you truly set the standards for community involvement. Thank you again for the support and we look forward to working with you in the future. Sincerely, Sweethearts Ball & Camp Journey
---
AT IT AGAIN - Kathy H
When the Children's Village is in need, Parker Subaru is there. Feeding 22 kids is a huge task and having to rely on the community for donations is a feat in itself. So any way we can help, that's just what we do. With a loaded truck full of groceries and 2 new bikes with helmets, we were off to deliver much needed supplies.
---
Pet Adoption Success Story - k H
Double J Dog Ranch had a great day, thank you for having us at the event. We adopted two dogs Skip, a blind Toy Aussie and Vern a deaf Pit/Aussie. Vern's story: Vern was picked up working the Vegas strip. He went to the slammer and no one came to get him out. After his time was up and no hope for an adopter, the shelter contacted us and we brought him to Idaho and he joined our program for special needs dogs. Vern's luck changed the day he came to our ranch and it got even better at the Parker Subaru Pet Adoption Event where he finally met his new family.
---
SHARE THE LOVE - Christina H
Dear Jim & Friends at Parker Subaru, On behalf of our board of directors, our staff, and all the children, we thank you for your most generous donation of $22,793.93. We know you have many giving options, and we are honored you support Children's Village. Currently in our care is a young boy has never spoken, he is completely non-verbal. Our staff started teaching him sign language, and after running some tests with a local pediatrician, we found he had hearing damage. He has since had surgery to have tubes placed in his ears and with our direct care staff providing all of his recovery needs, he is doing well. We have some great new volunteers spending time with our kids, helping them with homework, reading, and playing board games. The laughter we hear from the children playing outside is priceless. knowing they enjoy their time with us while struggling with their family difficulties is a blessing. We appreciate your support of the important work we do and thank you for your generosity. Warmly, Janet Davis, Exec Director and Christina Hull, Development Director
---
My One Day Pay - Kathy H
Giving back spreads from one end of our dealership to the other here at Parker Subaru. On Nov 21st 2015 Brent Petley, service advisor, donated one full days pay to his church, Lake City Community Church here in Coeur d'Alene Idaho. Brent says he does this every year and is always looking for ways to pay it forward. He says this money is used to help people less fortunate in the hope that it will change someones life. In the "My One Day Pay" all the members of Brent's church raised $112k. Wow, now that really is something! You make us proud Brent.
---
CHRISTMAS KINDNESS - Kathy H
For 4 years and counting Parker Subaru has had the greatest joy of giving back at Christmas time. Names of families are given to us through school counselors through out Kootenai County.The employees at Parker Subaru are truly amazing and have done everything from paying a family's rent for the month, buying tires for their vehicle to just making sure they have plenty of presents under the tree for their children. Here is just one "thank you" card we received...To all that have helped bless us, and so many this Christmas! Thank you all so much for your time, consideration and care this holiday. I cant express my gratitude enough, your kindness and generosity has truly blessed us this Christmas, it takes a very kind heart to do what you guys do and you all are truly appreciated. I hope you have a well deserved, very Merry Christmas. I look forward to the day when I can pay it forward and help people in need someday. I plan to do good in this life and bless as many people as I can, similar to how you have helped so many people yourselves.Your good deeds and blessings wont go unrecognized, Thank you so much for being so kind! Merry Christmas, from Sherri
---
4th Annual Car Give Away. - Kathy H
I would like to start off with this quote by John Wooden."Great people aren't great because of their talent; they are great because of their passion". Parker Subaru donated for the 4th year in a row a brand new Subaru, to help raise money for the Lakeland, Timberlake and Post Falls High Schools. Tickets are sold throughout the year and 100% of the ticket sales goes right back to the schools.The Subaru Crosstrek was also loaned out for various fundraising events. During the halftime of Post Falls High vs Lakeland High the winning ticket was drawn and announced.Ticket sales this year came to a whopping $84,750.00. Parker Subaru has always had a passion for giving back and will continue to do so. We can't wait for 2016!
---
Thank you - Kathy H
Dear Friends at Parker Subaru, On behalf of our board of directors, our staff, and all the children, we thank you for your generous donation of groceries, hygiene products and cleaning products. We cannot thank you enough for supporting at-risk youth who come into our care. With so many options for giving, we are grateful and honored that you chose the Children's Village. Again a very warm thank you for your generosity and support. Happy Fall. With warm regard, Janet Davis Executive Director & Christina Hull Development Director
---
HOME TWEET HOME Afternoon Tea and Auction. - Kathy H
Parker Subaru, We are so thrilled to have had your support for the "Home Tweet Home" tea. Your generous donation helped us raise over $25,000!!! That will be used to purchase additional medical equipment that we need and also launch our Advocacy Program. With warm regards, We Thank You!! The On Site For Seniors Fundraising Team.
---
5TH ANNUAL OPEN YOUR PURSE - Kathy H
All you have to do is ask and employees at Parker Subaru will step up to the plate and help. At the 5th Annual "Open your purse drive" Parker Subaru employees gathered and donated over 70 purses, wallets and handbags to the Event, held every November. 100% of all money from the sale of the purses go to the Childrens Village.
---
FAR BEYOND NORMAL! - Martin B
Can I share an experience that was so far beyond normal that I still talk about it, months later. Last summer I was on a road trip with my brand new non Subaru car. As it happened I needed to stop by Parker Subaru. As I drove into the customer parking area a few of the sales guys were outside. Before I could even get out, on of them, Steve Novak immediately came over to me and asked what happened to my car? I had no idea what he was talking about. "The paint", he said. Sure enough I had crossed over fresh yellow paint and it had covered the inside of my wheel wells and splattered the side of my new car with yellow paint. Steve noticed that it was still fairly fresh and immediately asked if he could take it to his detail bay. 20 min later, after 3 guys jumped all over the car with pressure washers, cleansers, brushes, scrubbers and a ton of effort they put my car back in the customer slot i had parked in completely clean. It was a stellar example of the value of servanthood. I was not a customer. Was not driving a Subaru. Do not even live in the area. But for 30 minutes I felt like the most important person at their dealership. Thank you Parker Subaru. Thank you Steve Novak. Martin Barrett
---
Parker Subaru loves to help - Kathy H
Here at Parker Subaru, charity work is embraced and encouraged. Thank you Parker employees for helping gather and load a truck full of essentials/supplies to the Children's Village.To quote Ronald Reagan, "Nothing great in the world has ever been accomplished without passion".
---
Long Bridge Swim - K H
Thank you Parker Subaru for becoming a key sponsor for the Long Bridge Swim 2015! The Parker Subaru sponsorship will contribute greatly toward our efforts to provide swim lessons for young people and adults who would otherwise not be able to afford them. This year's swim is the 21st year for the event and we had over 700 swimmers. Working closely with the Lake Pend Oreille School District, Sandpoint West Athletic Club and city Parks and Rec Dept. our goals are to help non-swimmers learn to swim, teach water safety, eliminate needless drowning's and promote swimming as a life sport. We have also provided financial aid for students on local swim teams and assisted students with the Red Cross lifesaving course. Thanks again for your support. Best regards, Jim Zuberbuhler, Race Director
---
Avondale Ladies Fall Tournament - G F
I cannot thank you enough for your generous donation to our fun tournament. We had 116 ladies play in the tournament and after all payouts, expenses and misc. we were able to make a very generous donation to Hospice. You and the Parker Subaru family were directly responsible for this. The picture of the ladies were taken during our lunch on the final day. Thank you again, Gayle
---
Bike CDA - K H
On July 14th 2015 we had the amazing opportunity of pairing up with BikeCDA, to donate the leftover bicycles and helmets back to our wonderful community. What a great cause & thanks for letting us be apart of something so special. BikeCDA provides a central hub to unify the many diverse groups, team and organizations that are involved in our cycling community. BikeCDA is a collective voice promoting and fostering a safe and active cycling culture.
---
ADOPTED A CLASSROOM - FONDA S
Your donation is appreciated! This will help us put supplies in our closet for needy students this year. Our Cougar Closet has clothes, coats, shoes and supplies. We would like to make sure that all of our students are taken care of. All a student or parent has to do is contact a staff member. The staff member takes them to the closet so that they can pick out what they need. We have been able to help many families in the past. Now we can put more supplies in the closet. Thank you so much! Sincerely, Fonda Stewart, John Brown Elementary School.
---
Chafe150 GranFondo - K H
Autism typically appears during the first three years of life and affects a person's ability to communicate and interact with others. Autism currently impacts 1 in 88 children, and studies show that autism is four to five times more common in boys than girls. By way of comparison, more children are diagnosed with autism each year than with juvenile diabetes, AIDS or cancer combined. This is why Parker Subaru chose to be a Gold Sponsor in the Chafe150 GranFondo. Bike enthusiasts come from all over to participate in this bike ride. Chafe 150 is contributing the proceeds of the ride to the Lake Pend Oreille School district. This will help staff better meet the needs of students with Autism. Giving back....isn't that what its about? Parker Subaru hopes with this love promise letter, more people will join the cause and be more aware of the Autism Spectrum.
---
P.A.S.S. - Kathy H
Here's to another successful year of the P.A.S.S. Program (Perfect Attendance Spells Success). This is Parker Subaru's 4th year of giving away a bicycle and helmet to each 5th & 6th grader with perfect attendance. Each year it just amazes us how truly devoted these young people are. The excitement on their faces when they come to our dealership to pick up their bikes is awesome. Most of the students bring along their siblings and to hear the younger brothers and sisters say, "I am going to go to school everyday so I can get one to" is heartwarming. It reminds each and every one of us at Parker Subaru that giving is the reward! These 5th and 6th graders don't realize it yet, but attending school everyday is helping them learn more, along with teaching them to strive for something and reap the rewards. "WHATEVER YOUR MIND CAN CONCEIVE AND BELIEVE, YOU CAN ACHIEVE"
---
CONGRATULATIONS SANDPOINT HIGH SCHOOL! - Kathy H
Parker Subaru was the main sponsor for "SOBER GRAD NIGHT" In Sandpoint, Idaho June 5th, 2015. You are the future and we couldn't be more proud of each and everyone of you. Many of you will go on to college, some will go straight to work, but always remember where you came from. Be humble and kind to others, serve your community and most of all be happy. We wish you the best of luck 2015 Graduates! Sincerely, Your friends at Parker Subaru
---
4th Annual Pet Adoption - Kathy H
Fun was had by all who attended Parker Subaru's 4th Annual Pet Adoption. Everyone loved the free BBQ and our very own Eric Sherman (BDC Dept) and his family adopted a furry friend. Thank you to Kootenai Humane Society, Scraps, Spokane Humane Society, Shoshone Humane Society, R4A Rescue and Double J Dog Ranch for coming. As always Parker Subaru paid 1/2 of all adoption fees and we look forward to an even bigger event next year.
---
Sincerest Thanks - MAKE-A-WISH I
To our friends at Parker Subaru, We wanted to take this opportunity to send our sincerest thanks to everyone at Parker Subaru for supporting the 2014 "Share the Love" event. As you know, Make-A-Wish was one of the four national charities that benefitted from "Share the Love", but what you might not realize is that Make-A-Wish Idaho, that is right here in your neighborhood, received the funds raised locally. These funds are used to help grant wishes for kids like Bryce, age 14, who wished to have an Action Track Wheelchair. Every 37 minutes a wish is granted somewhere in the U.S. Each wish serves as a new beginning for the wish child and family, to reclaim and resume life on their own terms. Life gets better for everyone involved when a wish comes true. Thanks to the support from Subaru of America and Subaru dealerships across the country just like yours, more than 860 wishes have been granted in the past four years. Thank you for all that you do to help makes wishes come true. Sincerely, Brenda, Megan, Nikki, Savannah, Rever
---
THANK YOU - KOOTENAI H
Thank you Parker Subaru for another successful adoption event! We truly appreciate the use of your gorgeous facility to showcase our community's animals. Your support of our mission means a great deal to us all. Kootenai Humane Society, volunteers and our four-legged residents!
---
Exceptional care and service - CAROL L
Dear Mr. Parker, The purpose of this letter is to let you know about the exceptional care and service we got recently from the Parker Subaru team in Coeur D'Alene. This is the 2nd Subaru I have purchased and I feel extremely safe driving my grandchildren and mother around. My son Paul was graciously directed to Chris Leonard and Chris went above and beyond the call of duty to put us into the perfect vehicle. He spoke to my brother over the phone to discuss the deal, and one day listened to me become quite emotional on the phone about my brother's attitude of how car sales are done in Texas. Salesman Brady has a wonderful warm, caring personality and right away put me at ease while we drove different models. Jared, in charge of used cars also made the vehicle exchange go smoothly. He was professional, compassionate and was happy to help me shuffle and empty cars. These 3 gentlemen were exceptional in every aspect of making this deal happen and then some. They were respectful, compassionate, extremely well versed on any issues we had questions about, and made us feel like "family" you are probably already aware of the outstanding caliber of people who work for you, but I wanted to praise them for being"real people" who care and want to make the customer extremely satisfied. We love our new Forester and couldn't be happier! Thank You Sincerely, Carol Landon
---
SUBARU LOVES THE EARTH - KATHY H
We would like to thank our customers and employees for their participation in the "SUBARU LOVES THE EARTH" event. We collected numerous items and knowing they wont go into a landfill does our hearts good. Parker Subaru believes in recycling and we do it all year long. Again, Thank you everyone! Sincerely, Parker Subaru
---
Safety System's Work! - DEAN O
My name is Dean Opsal, I just bought my 4th Subaru Outback a 2015. I am sending you this letter because of the Subaru sales rep at Parker Subaru, Mr. Jeff Yates. When I told him what I did for work he recommended the Subaru crash avoidance system he was very concerned about all the miles I drive, over 35000 a year on bad Idaho roads. Now the strange part is, I had less than 500 miles on my new car driving down US95 listing to Joel Olsten on XM radio doing 43mph with the system on and "BAM" just like that without warning a large black GMC envoy cut right in front of me and slammed on its breaks. I had no time to react, and before I could hit the break with my foot the car safety system did it for me saving me a horrible rear-end crash. I was so stunned it took my breath away. Jeff saved me from a huge crash buy recommending the safety system. I am forever grateful. With Love & Respect, Dean Opsal
---
THANK YOU - Carolyn S
Dear Chris and Subaru Staff, On behalf of Community Action Partnership Food Bank, I would like to thank you for your cash donation from the proceeds of the Subaru Share the love event. Your labor of love is amazing. I am continually in awe of our community and how creative people are in support of our friends and neighbors who have fallen on less than favorable times. Please thank each sales associate for their time and support of our food bank. I am excited to share that we should have enough cash donations to purchase a refrigerated van which will retrieve an average of 80-100 thousand pounds of donated food per year for several years in the future. You can only imagine the accumulative value of this wonderful gift to our community members who utilize our food bank. I consider it an honor and great responsibility to be sure that every dollar donated is used to its highest potential.Thank you for encouraging us in our work. We would not be able to serve without our community support. Your wonderful gift is greatly appreciated. Sincerely, Carolyn Shewfelt Community Action Partnership Food Bank Manager
---
EXCEPTIONAL EMPLOYEE - KATHY H
Long before there was a "Love Promise", Parker Subaru and their employees have been giving back to the community. To work at Parker Subaru our employees must be very compassionate, giving and love what they do. We would like to share just one of many examples: Sales associate Jason White gets a call from his customer Ann, she says she needs to have her snow tires taken off and her spring tires put on, but she has no way of getting them here, they are too big with the rims. "NO PROBLEM" says Jason, I will come pick them up for you. After several missed appts due to Ann being very ill, Jason calls Ann and says, how about I just come and get your vehicle, have the swap done then return your vehicle to you, needless to say Ann was very happy, but that's not the end of the story, Jason took it one step farther and also paid for the service himself. Thank you Jason for being part of the Parker Subaru team. We are so proud of you.
---
SORENSEN AUCTION & SOIREE - KATHY H
Parker Subaru was a proud sponsor of the 9th annual Sorensen Auction & Soiree on March 21st 2015. It was a fun-filled gala dinner and fundraising event with live and silent auctions, all to support Sorensen's arts and humanities programs.
---
GREAT CUSTOMER SERVICE - Brian K
Incredible customer service through the life of the vehicle. From purchase date to sale date all the services in between. So good that I went back to buy my first Brand new car from Parker Subaru. I got great value for my trade in, a fair price for the car and a hassle free loan experience. My sales rep, Dan Morin also went way above my expectations by sending me pictures of my car though the upgrade phase where I added an STI exhaust, front bumper lip and some protectant panel covers as well as tint. I could not wait to drive it when I got home from work and when I drove my 2015 WRX off the lot with 7 miles on it I was absolutely stoked! I couldn't recommend a better dealership than Parker Subaru to anyone in the Coeur D Alene area. They are Bad A**!
---
"X the TEXT" - Kathy H
In support of Coeur D Alene High school, Parker Subaru is currently sponsoring the "X the Text" initiative. The program ask the students to pledge with a thumbprint they will not text and drive. Announcements were made during a recent High School basketball game halftime, student assembly, and during morning announcements during the month of February about the program. Coeur D Alene High students placed their thumb print on the "X the Text" banners placed throughout the school.Parker Subaru is very proud of our High School Students!
---
Community Action Partnership Food Drive - Kathy H
On November 20th, Parker Subaru chose Community Action Partnership (Coeur D'Alene Food Bank) as the hometown charity for the "Share The Love" Program. Not only did we offer $5.00 - $10.00 off oil changes for bringing in donations/non-perishables, but we successfully collected 556.6 lbs of food. We feel fortunate to live in a community that is willing to help and embrace our hometown charity. We are humbled by all that donated, including our own employees. As our mission statement states: Parker Subaru is a Company committed to continuously improving its service to our customers, our employees and our community. OUR GRATITUDE SETS US APART. Thank you, Parker Subaru
---
2014 P.A.S.S. BIKE GIVE-A-WAY - Kathy H
P.A.S.S.-Perfect Attendance Spells Success is an incentive program for local Elementary students to attend class every day in their last year of Elementary School. For the last 4 years Parker Subaru has rewarded students with the donation of a bike & helmet to each 5th or 6th grade student who has perfect attendance for an entire school year. 200 bikes and helmets were given away in 2014. Good Job Kids!
---
PARKER SUBARU IS BEYOND EXCEPTIONAL - CATHY B
My daughter is the Registrar at the Musical Instrument Museum in Arizona. Last June she was married in a ceremony here in No.Idaho. Two nights before the wedding we were driving my 2010 Forester when all kinds of lights came on. Being the mother of the bride, I fell into the depths of panic. The bride & groom were using my Forester while they were in town, and they expected to drive off in it after the wedding. A day before the wedding we called your service dept. and explained the situation. She was told to bring the car right down and promised her a loaner so she would have post-wedding transportation. She and her fiance drove right down to Parker Subaru.The wedding went off without a hitch and the bride & groom drove off in your loaner. We sincerely appreciate your outstanding service! Cathy Bierne
---
ANNUAL PET ADOPTION DAY! - Kathy H
Community involvement is very important to Parker Subaru, who loves to give back to the community that has taken such great care of them over the years. Last years event was extremely successful. We adopted close to 80 dogs and cats. This year we will have 5 different shelters participate and have over 125 animals in our service drive. This is a great event, helping our four-legged friends find a loving family and new home. Parker Subaru also pays 1/2 of all adoption fees. Our hope for this years event is to double the adoptions!
---
Parker Subaru Raffles Vehicle to Help Local High Schools - Kathy H
CONGRATULATIONS to Tricia Dean of Post Falls she won a brand new Subaru Crosstrek from Parker Subaru at the raffle drawing during a recent basketball game at Post Falls High. The raffle raised just over $92,000 to help support clubs and projects at Timberlake, Post Falls and Lakeland High Schools. For the past 4 years Parker Subaru has donated a new Subaru to be raffled.
---
Parker Subaru Supports "Casting For Recover Through N.Idaho & E.Washington Fly Fishing Assoc." - SANDY E
Dear Mr.Parker, On Sat. night I was a guest at the banquet of the "Casting for Recovery group through N.Idaho & E.Washington fly Fishing Assoc. We had a chance to see many wonderful items that your company donated to the silent, live and bucket auctions. As a graduate of the June Casting for Recovery program on the North Fork of CDA River, I want to thank you for your generous donations to this program. I am a survivor of Stage IV Breast Cancer. This outing was one of the most rewarding support programs I have encountered. This is my first year of recovery and to be able to have a weekend of pampering by this fine group was overwhelming for me and the other 13 women survivors. Thank you again for supporting this great organization. I know you must have many requests for donations but we survivors are grateful that you have given us your support. Sincerely, Sandy Eberle
---
Parker Subaru Sponsors "Canines vs Cancer" Event - JOCELYN P
Thank you Parker Subaru for being the Titled sponsor for "Canines vs Cancer". Your support for our community is absolutely amazing. We reached our goal of raising $10k after expenses. Thanks for helping us help kids fighting cancer. 50% of the proceeds from "Canines vs Cancer" will go to the American Childhood Cancer Organization Inland Northwest and the other half of the proceeds will be divided among animal shelters and WSU Veterinary Clinic. THANK YOU PARKER SUBARU!!!!!!
---
Fundraising Event For the "Casting for Recovery Committee" - DAVE L
Dear Jim Parker, On behalf of the Casting for Recovery Committee we would like to thank you for your generous support of the fund raising event held in Post Falls on April 27th. From the auction items and ticket sales and other donations we generated a net income of excess of $12k. It is indeed gratifying to see so many people like you helping to make this program viable.Next June, 14 women from No Idaho who are living with the effects of breat cancer will travel to CDA River for 2 1/2 days of fly fishing and counseling retreat. We hope you will feel the gratitude of these women as they take another step closer to recovery made possible by you and so many others. Thank you. Sincerely, Dave Londeree President, No Idaho Fly Casters
---
Jim Parker Proudly Supports Idaho Centennial Trail Foundation - MIKE G
In Jan of 2012 an idea was born in Coeur d Alene Idaho.With the rise in popularity of the bicycle riding event called"Grand Fondo".As we realized this was really going to happen we also knew that we had an opportunity to identify a local beneficiary-The No Idaho Centennial Trail Foundation. I can honestly say, without a doubt, that if it werent for Jim Parker and his wonderful team he has assembled there, our event would have struggled to make a difference in our town. The fact that funds were granted and unrestricted use of a brand-new Outback to help us create awareness wherever we went helped us realize a net outcome of over $35k the very first year. On behalf of all of us that have seen our dream come true, please know we truly appreciate the continued support and dedication to our community that Jim Parker provides. Thank you for your consideration for this Love Promise rockstar! Sincerely, Micahel Ward.
---
"Learning with Lucky" Reading Program - Camy P
If I had to describe Jim Parker from Parker Subaru in one word, it would be "giver." While Jim may be a local business owner, he is a giver first, giving back to the community. I've worked with Jim on the "Learning with Lucky" reading program since 2007. Together, we've supplied well over 10,000 first graders with a "reading buddy" as part of the Learning with Lucky program. This reading program is designed to encourage reading achievement with first graders. The program allows teachers to motivate students through the difficult process of learning to read. The possibilities are endless when you have people like Jim Parker in your community. Sincerely, Camy Popiel
---