The 2021 Subaru Love Promise Customer and Community Commitment Award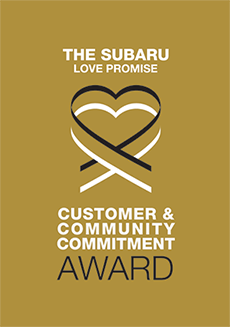 We've been nationally recognized for our dedication to our customers, our community, and the Subaru Love Promise.
We're honored to receive the 2021 Subaru Love Promise Customer and Community Commitment Award. This award nationally recognizes elite Subaru retailers who provide an exceptional customer experience at every interaction with Subaru. These retailers have also demonstrated an outstanding commitment to supporting passions and causes in their local communities in important areas such as the environment, community, health, education, and pets.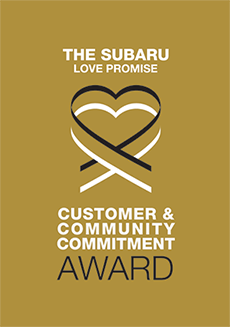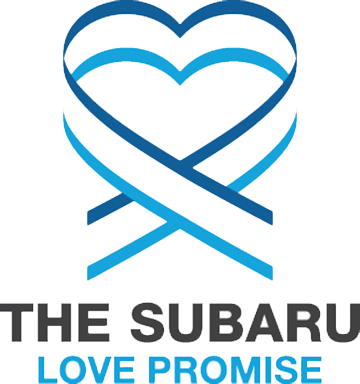 What is the Subaru Love Promise?
Subaru and our retailers believe in making the world a better place and the Subaru Love Promise is our vision of respecting all people. This is our commitment to show love and respect to our customers and to work to make a positive impact in the world.
How is Parker Subaru dedicated locally to the Love Promise?
Our Love Promise can be seen in various partnerships with local charities and non-profits. We're grateful for the opportunity, not only to be a part of our community, but to serve it as well. Parker Auto Family is a company committed to continuously improving its service to our customers, our employees and our community!
Pet Adoption Day/5 shelters, Canines vs Cancer
P.A.S.S./Perfect attendance spells success., Car Raffle/High schools, Learning with Lucky/Reading
Pack the Outback/Make-a-Wish Foundation, Coeur D Alene Food Bank
Coeur D Fondo/Local Bike Event, Casting for Recovery/Cancer Benefit
Love Promise Stories from Parker Subaru
Subaru and Parker Subaru believe in making a positive impact on the communities in which we live and work. We uphold that belief through our Love Promise Community Commitment. Every month, we select inspiring stories from customers and partners from around our area who strive to support our collective commitment and feature them here
Being an Active Part in Our Community - Lexi E
As a local business, we are all for helping our community. Subaru USA operates many initiatives throughout the year, all based around the 5 pillars of the Subaru Love Promise. One of those pillars is Subaru Loves to Help. We at Parker Subaru recently adopted a local highway and bagged up loads of trash that accumulated within just a one mile stretch along the road. Thank you to the Idaho Department of Transportation for making sure we were safe and prepared with supplies. We were also able to donate 150 blankets to Safe Passage - a local non-profit organization committed to helping survivors of domestic and sexual violence (including children). They offer shelter, counseling, court advocacy, and more. The winter months can be brutal and cold, so blankets are always needed. With the help of Subaru, less women and children will be in need of a warm blanket this season.
---
Peanut - the size of a peanut - Vicky N
Tiny, tiny Peanut was transferred to Kootenai Humane Society from a high-kill shelter in Texas. So afraid and wondering what happened to his world, he quivered every time someone looked at him. Peanut was so small that he was placed in a black wired kennel and stayed in staff offices over night. During the day, he was able to 'hang out' in staff offices to help him relax and be around people. He did need medical treatment for one week before being ready for adoption. Knowing he would need a quiet family and someone with a lot of patience, a wonderful woman heard of Peanut and wanted to meet him. The first day he was ready to meet the public was on October 17. She showed up with her daughter to the Parker Subaru Adoption event and a match was made! Peanut was handed to the lady and they both made a connection. He was home.
---
Kind Actions Saves a Life - Lexi E
Two of our lot attendants went to a elderly customer's house to get her car for its scheduled service appointment. They had arranged previously to pick it up because she lives by herself and was unable to bring it in, and she told our service receptionist to have them come to the back door and knock because she wouldn't hear them otherwise. The two young men went to the house, knocked on the front door, and left because they received no answer. Back at the dealership, they spoke with our service receptionist who reminded them of the request to go to the back door. They returned to the residence, went around back and knocked, but still no answer. Then they heard a woman calling from inside. Through the window, they were able to determine that she had fallen and needed paramedics. They called, and the woman was taken to the hospital. She had fallen the previous day and broken her hip, so she had been in that situation for a very long time. She has since recovered and thanked our team for being there when they were with a kind thank-you card. We are extremely proud of Trevor and Carson for their bravery that day. Sometimes life places you in the right place at the very right time.
---
Subaru Share the Love - Lexi E
It's a beautiful day to hand out some big checks! Parker Subaru presented both the Kootenai Humane Society and Children's Village with their individual donations from the Subaru Share the Love event this year. For every new Subaru vehicle purchased from last November through early January, Subaru agreed to donate $300 to one of these two local charities. Please follow both Kootenai Humane Society and Children's Village, Inc. to stay up to date on all of the amazing things they do. We absolutely love this community and the people and organizations that make it up!
---
Customer Reviews - Going the Extra Mile - Lexi E
"I just brought home my 2021 Outback Touring XT. This is my third Subaru and by far my best car buying experience ever. My salesman Tommy Pfau was fantastic! He made me feel like a friend and made everything smooth and seamless. I drove from Cheney, WA and it was worth every mile. Thank you Tommy and Parker Subaru for the wonderful customer service. If you're looking for a great experience buying a car I highly recommend Tommy and Parker Subaru!" "I'll start this off with the info that I have been looking for a car for about 6 months. I'm picky and on a budget, probably a salesman's worst nightmare! But no matter how many times I came down to Parker to check out a car, get numbers, not end up getting it and just not quite finding "the one", Dustin worked hard to keep looking for a vehicle to fit what I needed for my family. He never gave up and threw in the towel and I'm forever thankful. We finally found the perfect car and he worked so hard to make sure I could get into it. He was so honest and professional the entire time and really went above and beyond even after the purchase was done. Everything was all set up in my new car and it was so quick and easy. Then made sure I could find all the gadgets and helped set up the Bluetooth and everything. Just such a wonderful experience thanks to Dustin. Thank you again for helping us find a car for our family!" "We absolutely LOVE Parker Subaru! Danny Garrigan sold us a car several years ago and it was such a great experience then, that we requested him again tonight when we went in. We were in the market for a car for my son. Let me just say I HATE buying cars. And when it comes to my son I'm unwilling to compromise on trust or reliability. I knew that with Danny, both would be in good hands. We went in to test drive a car and with Danny's help we were able to make the purchase. Danny was professional and very easy to work with. Thank you Parker Subaru and thank you Danny! The experience was painless and easy." "This was my first experience buying a pre-owned vehicle from a dealership and I cannot say enough great things!! Sales associate Drew H made our experience fun, easy, and enjoyable the whole time. Once we were passed along to finance, Drew H (different Drew H) worked out a deal while we went home and kept me updated the entire time. He helped get me my desired rate and payment, even though it took some extra work. At signing, we were helped out by Greg who had all of the paperwork ready and explained everything super clearly. This was a quick and easy experience. At all times we felt welcomed, comfortable and were met with kindness and respect. We weren't pushed into buying anything we weren't interested in and all of the employees who helped us were open and honest the entire time. I recommend Parker Subaru 100% and am so so pleased with everything about my experience." "Wish I would've come to this dealership when I traded in my Nissan when I moved up from CA 3 years ago. Joey and the team were all great. 97% of my communications were with Joey and were done via phone and text. Joey was always available to answer questions and educate me where needed. Even on his day off. When I finally got into the dealership financing and paperwork was already pre-filled and ready to go. Everyone smiled and greeted me. Super super professional and warm experience and will recommend the dealership to everyone I come across who is looking to buy / trade. I even got to see some pics of Joey's dog. Which was a huge plus as I have 4 rescues of my own. I sincerely appreciate the time and effort this team put in. Thanks." "Absolutely excellent service! Answered all questions, whether they were related to the purchase or not, and did so professionally and with a smile. The plans they offer in addition to the lease of the car are extremely affordable for the services provided, and are very in-depth in what they provide. Large selection, in multiple options per vehicle, and great quality vehicles in general, including their used vehicles. My family has purchased multiple Subarus from here over the span of a decade and a half, and every one they have bought have been great quality, with excellent service. Now that we purchased one ourselves, I can say with certainty that this has been one of the best experiences I have ever gone through purchasing a vehicle. HIGHLY recommend!"
---
Christmas Dinner Drive - Lexi E
The need for food never ends, especially during the holidays. This year, Parker Subaru bought supplies from Super 1 Foods, and the staff assembled and filled 120 boxes with everything needed for a Christmas dinner. That evening, families drove through the service drive and were welcomed with smiles, music, and a cheerful "Merry Christmas" as staff loaded a boxed dinner into their cars. For the families who were not able to get to the dealership, a handful of Subaru staff made home deliveries to make sure the meals got to where they were needed. The remaining boxes were taken to UGM and Real Life Ministries. We look forward to hopefully helping and feeding even more families next year!
---
Subaru Loves Pets "Yappy Hour!" - Vicky N
The good folks at Parker Subaru had to cancel their annual Pet Adoption Day for 2020 - but came up with another great idea! As part of Subaru Loves Pets they donated $100 for every dog adopted in the month of October to celebrate Adopt a Shelter Dog Month! And they held a "Yappy Hour" at their dealership to celebrate National Make a Dog's Day at the same time! Kootenai Humane Society was proud to be a part of this hour long Live Facebook event! Chris Leonard, Parker Subaru's General Manager joined in on the fun and met Toby, an eight year old Shepherd Rottweiler mix who was dealing with some major skin issues. Toby spent several weeks at the shelter recuperating but he didn't seem to mind all the attention he was receiving at the dealership! Just a few days after his Yappy Hour appearance, he was adopted! He found the perfect person to spend the rest of life. For many years Parker Subaru has helped so many animals find their forever homes. All of us at Kootenai Humane Society, two-legged, four-legged, and sometimes three-legged are so grateful for their continued support of our life-saving mission. Four paws up to all of them! And a big Woof!
---
Parker Subaru Reaches Their Community - Mark G
All our experiences with Parker Subaru in Coeur d'Alene, Idaho have been superlative. From Danny Garrigan our salesman to Bill Smasne Sales Manager, and Devin, and Joshua who helped us with financing and service, respectively, I have been exceedingly pleased with Parker Subaru. What I find extraordinary about the dealership is that they have a food bank for the community with what seems to be a "Donate What You Can, Take What You Need" philosophy. They also adopt families in the community at the holidays to whom they provide food, gifts, and love. From what I hear, the members of the Parker Subaru team actively participate in these activities as well. Honestly, I was not sure I would buy my new car from them. They made me a very competitive offer on the purchase, but what sold me on the car and the dealership was their support of the community in which they are located. I'm impressed.
---
Second High School Car Raffle Fundraiser 2020 - Giselle Z
Each year, we challenge the Post Falls, Lakeland, and Timberlake High School students to sell raffle tickets in order to raise money for their student programs. The ultimate prize for the raffle you ask? A brand new 2019 Subaru Crosstrek from Parker Subaru! This year, the students were able to raise $72,082, which is just amazing to see from our community. We owe the success to every person that chooses to buy a raffle ticket in support. The best part of it all is that 100% of these funds raised go directly to the student programs at each school! We have found this to be an incredibly successful fundraiser for the schools, and the reaction of the raffle winners is always just the cherry on top! Karen Wood was lucky enough to be drawn as the winner of the new Subaru Crosstrek this year. She purchased her ticket from her granddaughter who is a cheerleader at Post Falls High School! From the winning call to the pick up at Parker Subaru, the reactions on the video are definitely worth a watch!
---
P.A.S.S. Bike Giveaway 2019 - Giselle Z
P.A.S.S. stands for Perfect Attendance Spells Success. Since 2013, we have challenged the Lakeland school district sixth graders to achieve perfect attendance in order to win a free bike and helmet at the end of the school year. Well, last year there were 40 qualifying students who ended up making it through the school year without missing a day of school! We honored them at their end of the year assemblies and invited them to our P.A.S.S. Bike Giveaway and Barbecue. That day, our Service Center that's normally filled with vehicles was filled with food, drinks, and bikes for all the awesome students and their families! This is just one of the ways we try to live out the Subaru Loves Learning Subaru Love Promise. Staying engaged at school every day is an important part of the learning process. We hope that this school year, even more students achieve perfect attendance to win their free bike and helmet!
---